Products
Materials Handling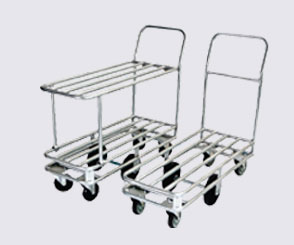 Small Tube Stock Trolley
Models: UT1001 & UT1001.1
Size 1000mm x 450mm
Can carry weights up to 500kg
Galvanised Finish
Suitable for all retail, warehouse & stockroom environments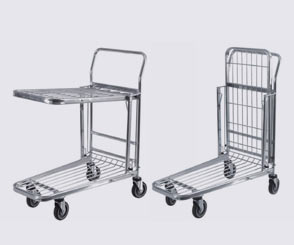 Stock Trolley with Foldable Shelf
Model: USHL20
Size: 870mm (L) x 430mm (W) x 1.0mt (H)
Can carry weight up to 150kg
Chrome Finish
Trolleys will nest for space saving
Suitable for all retail, warehouse and stock room environment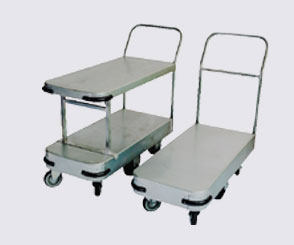 Small Sheet Stock Trolley
Models: US1001 & US1000
Size 990mm x 465mm
Can carry weights up to 500kg
Galvanised sheet metal finish
Suitable for all retail, warehouse & stockroom environments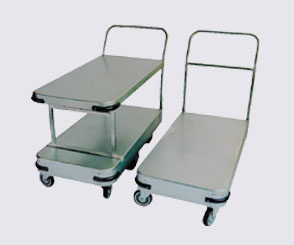 Large Sheet Stock Trolley
Models: US2001 & US2000
Size 1140mm x 565mm
Can carry weights up to 500kg
Galvanised sheet metal finish
Suitable for all retail, warehouse & stockroom environments
Fruit & Veg Trolley
Models: USMH0260
Size 1140mm x 565mm
Can carry weight up to 300kg
Galvanised sheet metal finish
Purpose built for fruit & vegetable retailers & markets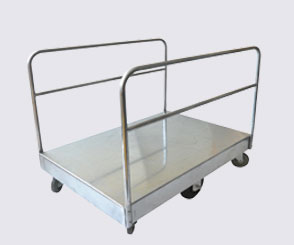 Twin Handle Large Gal Sheet Stock Trolley
Model: USMH0300
Size 1140mm x 800mm
Can carry weight up to 500kg
Galvanised sheet metal finish
Ideal for Hardware, Timber, Liquor, Furniture, Warehouse, Cash and Carry
Twin Handle Gal Sheet Stock Trolley
Model: USMH0350
Size 1140mm x 460mm
Can carry weight up to 500kg
Galvanised sheet metal finish
Ideal for Liquor stores, retail outlets, Hospitality, Grocery, Warehouse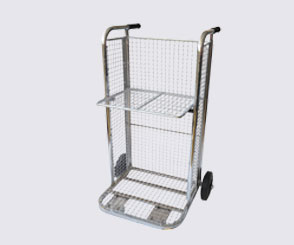 Legal Trolley
Model: USMH0500
Size 1020mm x 660mm
Can carry weight up to 300kg
Chrome Finish
Ideal for Barristers, Solicitors, Libraries, Bookshops
Hardware/Liquor/Hospitality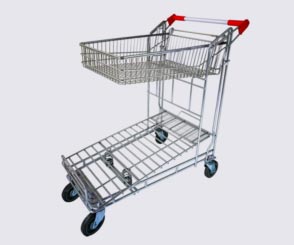 Liquor Trolley w/ Basket
Model: UTM207
150 kg weight capacity
Multipurpose trolley with large undercarriage
Foldable top basket
Rear fixed castors
Top basket has a 45 litre capacity
Perfect for small and large items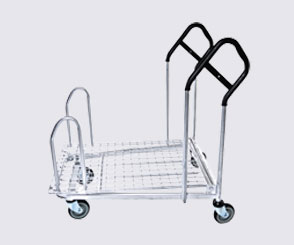 Flatbed Trolley # 2
Model: UTHL0100
Size: 920mm x 600mm
Can carry weight up to 300kg
Zinc plating/ Clear powder coat finish
Trolleys will nest together to save storage room
Ideal for Warehouse, Hardware, Big Box retailers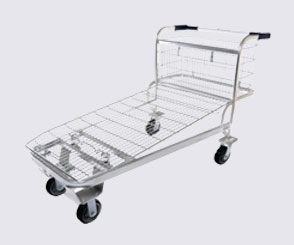 Flatbed Trolley # 4
Model: UTHL0110
Size 1500mm x 800mm
Can carry weight up to 500kg
Zinc plated/ Clear powder coat finish
Trolleys will nest together to save storage room
Ideal for Hardware, Cash and Carry, Warehouses, Liquor, Hospitality
Minimum order quaintly applies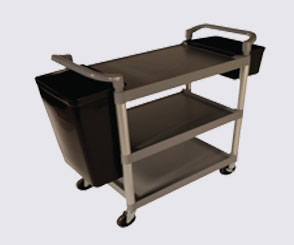 3 Tier Hospitality Trolley
Model: UTHP1010
Size 1040mm (L) x 410mm (w) x 920mm (h) with side bins
Can carry weight up to 150kg
Powder coat Grey finish
Ideal for Cafes, Take away shops, Hotels, Pubs, Restaurants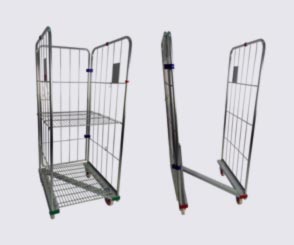 Roll Cages
Model: USMH080
The three sided Roll Cage is designed to ensure maximum storage capacity whilst also being collapsible for easy and unobtrusive storage when not in use. Optional shelf available.
The unique Z-Frame design allows nesting of multiple cages, saving on valuable floor space and makes transport of multiple cages much easier.
Please note that the A-Frame design will not nest with the Z-Frame design.    
Fitted with heavy duty 125mm nylon castors which help reduce the push effort required when fully loaded.
Shelf Optional
Dimensions 820mm (w) x 820 (L) x 1810mm (H)
Weight 50Kg
400Kg Capacity
Please contact us on 1300 131 383 or E-mail sales@sosmaintenance.com.au for an obligation free quote.